Urban Farming Guide
Urban
Farming – MetroFarm: The Guide for Growing for Profit In or Near the City
Earn up to 8 times the average income­ on as 
little as 1 acre of land…
According to the Census of Agriculture, the most productive farms, in terms of cash value of crops per acre, are located in or near the city.  (Whereas the average acre of farmland in Iowa earns $313 per acre/year, the average acre in San Francisco earns $76,421!)
Become a producer in a nation of consumers!
Work at home, and make money at home, with the ultimate home business by farming high value specialty crops for hungry metropolitan consumers with money to spend!
You can be young or old, male or female, rich or poor, married or single. You can rent, own or lease.  You can be an organic farmer, a greenfarmer, a sustainable farmer, an eco farmer, a city farmer, an urban farmer– and generate a substantial income on a profitable metropolitan farm!
Turn your hobby into a profitable home-based business by farming from thousands of profitable specialty crop opportunities!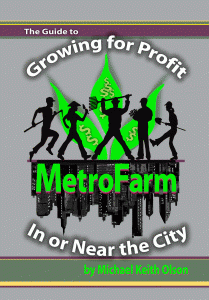 | | |
| --- | --- |
| farm chickens | farm hogs |
| farm earthworms | farm mushrooms |
| farm fish | farm ornamentals |
| farm flowers | farm seeds |
| farm fruit | farm strawberries |
| farm goats | farm tomatoes |
| farm grapes | farm trees |
| farm herbs | farm vegetables |

METROFARM'S 576 pages, 252 charts, illustrations and photos, 50 practical exercises, and 5

chapter-length interviews will help you…

Understand Agribusiness
Develop a MetroFarm Strategy
Survey the Market
Evaluate & Control Land
Select the Right Crops
Organize a Business
Establish Production
Prepare for Market
Sell Your Products
•••••••••••••••••••••
Listen to what the experts say about MetroFarm:
Few how-to books could be more appropriate than Michael Olson's MetroFarm…. With humor and passion, Olson makes the whole imbedded food system doable.  A must read! Joel Salatin, Polyface Farm
Olson's metrofarms enjoy competitive advantages which allow them to produce more crops per unit, of higher quality and at less cost than can large-scale farms.  Dr. John Wysong, Agriculture Resource Economics, University of Maryland
MetroFarm is filled with marketing and business management basics that entertain and enlighten.  Case studies show how successful metrofarmers possess the vision and persistence to prosper. Bob Hoffstetter, New Farm Magazine
MetroFarm is full of information!  The business information alone is more informative and helpful than most books that specialize in business.  Get this book!  You will not be disappointed. S.M. Smith, Engineer, Shanghai, China
MetroFarm is a one-stop guide to the business of micro-acreage farming.  There is so much to this book!  Suffice it to say that I've found it to be a helpful and well-researched one-stop guide to answering my questions. Todd Schriver, Cheesemaker, Montpelier, IN
Big Book! MetroFarm describes the agronomic, economic, and managerial concepts required to generate substantial profits from agricultural locales near metro areas. Howard W. "Bud" Kerr, Director, Office for Small Scale Agriculture, USDA
MetroFarm addresses just about every issue involved in planning, planting, growing, harvesting, packaging, marketing and transporting a crop. Nancy Barr, Watsonville Pajaronian
There is a tremendous amount of useful information in MetroFarm.  Would we buy MetroFarm if we were to farm in or near the city?  Yes, we would! Greg and Pat Williams, Hortideas Magazine
What a book!  Its obvious MetroFarm was not written by someone sitting in an ivory tower, it comes from the trenches, from the school of hard knocks.  A superb job! Paul Otten, Northland Berry News
I rate this book very high.  All the information is easy to understand and it reads really fast.  You will get your money's worth out of MetroFarm.  Maureen Rodgers, Herbal Connection
MetroFarm tells how to convert an opportunity into a real going concern.  Each process is laid out with impressive thoroughness, every chapter organized around the logic of practicality.  For every task or problem needing solution, Olson offers a progression of steps arranged in the correct sequence so that the desired goal is achieved.  Charles Walters, ACRES USA
Spring into action now and be first to market!
First to market always gets the best opportunities, the rest must settle for what's left.  Open your copy of MetroFarm today and become "King of the hill" in your marketplace!
MetroFarm has been field tested by thousands of entrepreneurs around the world.
MetroFarm is used as a text at universities and trade schools throughout the English-speaking world.
– NO RISK GUARANTEE –

If MetroFarm does not save you over 100 times its cost in time and money for your metropolitan farm return it for its full purchase price.