MetroFarm Awards




MetroFarm: Award Winning Urban Farming Book
The Urban Farming Guide to Growing for Profit In or Near the City
•••••••

A BEN FRANKLIN BOOK OF THE YEAR AWARD:
•••••••••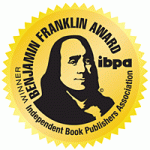 The Ben Franklin Awards are named in honor of America's most cherished publisher/printer, the Benjamin Franklin Awards™ recognizes excellence in independent publishing. Publications, grouped by genre are judged on editorial and design merit by top practitioners in each field.
••••••••••••

The trophies are awarded to the best books in several categories and are presented to the publishers during a gala awards ceremony on the last evening of the Publishing University (just before the opening of Book Expo America)

.